Человек, который говорит о рынках, денежно-кредитной политики, драгоценные металлы, экономики и геополитики. Maneco64: Домашний альтернативной экономики.
Он имеет блоги на английском языке, поэтому я думал чтобы оставить оригинальную статью на английском языке
The man who tells all you want to know about Markets, Monetary Policy, Precious Metals, Economics and Geopolitics. Maneco64: The Home of Alternative Economics and Contrarian Views.

- among the most appreciated posts on steemit :
a discussion about the major beneficiaries of war as explained by Major General Smedley Butler. I also look at how World War One was financed and later on how the U.S. government defaulted on the war debt.
check here for the post

another great video about about the Bank of England's governor, Mark Carney - comments that robots will destroy 15 million jobs from the UK middle class as technology advances.
check here for the post

---
You worked in big companies and banks. Is something changed since the last video about you or could you add more? What motivated you to continue the channel on youtube?
I started making my youtube videos about thirteen months ago and I find youtube a great platform. I started out with zero subscribers and I now have almost 5000. I will continue on youtube but also like to post my videos elsewhere like steemit, twitter, linkedin and facebook. The video about myself is up to date so my circumstances have not changed.
The community supports you. You are getting daily more votes. How did you find out about STEEMIT?
I found out about steemit from a youtube video made by Jeff Berwick of the Dollar Vigilante.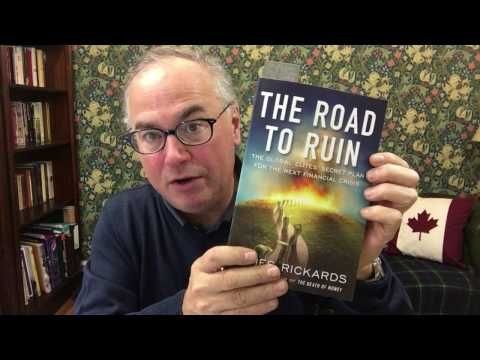 source
Could you recommend some economic magazines or pages on the internet?
As for economics and market websites that I like I recommend
What have you learned after your experience in banks?
What I learned from working for banks and in the markets is that the system is based on confidence as there is nothing backing the money anymore.
What business would be profitable?
At the moment I think in any business, especially her in the UK and probably in the US, is hard to make profits as regulations and taxation have made it very hard for small businesses to make a profit.
In your opinion, which will be the evolution of bitcoin in the next year?
I would say bitcoin is more of a speculation than an investment at the moment and that gold is money and has a 5000 year track record so personally I prefer gold but would not overlook bitcoin.
What is the best quality to a person regarding economics?
As far as economics is concerned I would say the best quality for a person to have is common sense and by that I mean that what ever makes sense for you as an individual should make sense for the broader economy.
Do you like the way Steemit is set up?
I have a question about the Wallet on steemit.com. Basically it is very complicated and I am not sure what is what. Could please explain to me what it all means and how I could exchange steem for other currencies like bitcoin?
Steem and steemdollar can be transferred especially on bittrex and poloniex
Thanks and regards,
Mario
In the end, a great video about The Fallacy of Modern Economics
In this report I look at the origin of the word Economics and argue that the modern academic field of economics has been corrupted in order to justify the Big-Government and Fiat Money System we live under.