Good Afternoon Great Britain. Here is a recap of staged fake violence from last night's WWE's Royal Rumble in San Antonio Texas.  

Ol Sean Michaels, the Heart Break Kid, HBK on the ticker, took some time coming down the long walk way. It was a very long run way, or walk way from the entrance to the ring.  Sean Michaels got everybody seated, squeezed out a couple a poses, and then ran up the aisle real fast.   Thanks Sean Michaels, this is your home town.  A cage in the sky, Kevin Owens still Universal Champion.  A clashing between a queen and the girl next door, Charlotte over Bayley.  Cruiserweights.  The Good Brothers, Anderson & Gallows, timely Tag Team Titles. But hope your buddy didn't get you kicked out by now. It's time for AJ Styles vs John Cena for the World Wrestling Entertainment PG Era Championship. 
 .....
AJ Styles vs John Cena
Father, family man, AJ Styles walks tall in Texas with title round the waist. Hot pop, crowd face love.  Cena gets hit with "John Cena Sucks" serenades and heel heat.  Fun bump from the crowd when AJ hails from Atlanta, GA. Bell rings.  Nice teaser tops with back and forth between the wanna be the number one stunner.  AJ is up on execution over power.  Backbreaker, spinning power bomb. Beast mode Styles kicks out of an AA.  Cena electric chair facebuster AJ. Opportunity to catch a breath. Yay Boo Face Punch. Grappling on the mat into Calf Crusher, STF, Reverse STF, Weird stand up action into Cena Figure Fours on Styles. AJ Arm Breaker. Cena power bomb dead lift. Johny to the rope jump.  AJ catch a jump, Styles Clash Johnny, kick out, two. Spinning power bomb. Evolution Devastation. AJ kicks out of the Super AA from the ropes.  AJ counters Styles Clash. He is too beat up to capitalize. To the ropes into AA, rolls into AA two times.  1, 2, 3,  new WWE champion, John Cena.  

16 Times. Rick Flair Country Cena.  How will AJ respond?  Crowd shows both appreciation.  John Cena bows to them, he thanks them, he worships.  Then he jumps the shark to say hello to a 'make a wish' kid. He gave the kid the belt. Kinda let him hold it a minute. The kid wasn't expecting it.  So he sort of took it, cause that's cool.   Thanks for letting me hold your belt, John Cena.  The kid seemed to know John would have to take it back so they sort of shoved it back and forth at each other for a moment.  John took it back of course. He had to. He was Champion now.  Champion to rule over all other wrestlers with the wave of his belt. The boy was to go home and hopefully wake up healed in San Antonio, Texas monday morning. Soy ese chico. John Cena wakes up tied with Rick Flair as a 16 Time WWE Champion and greatest Heel of all time.  As commercials break, a woman plays piano ala Reby Hardy.  Delete.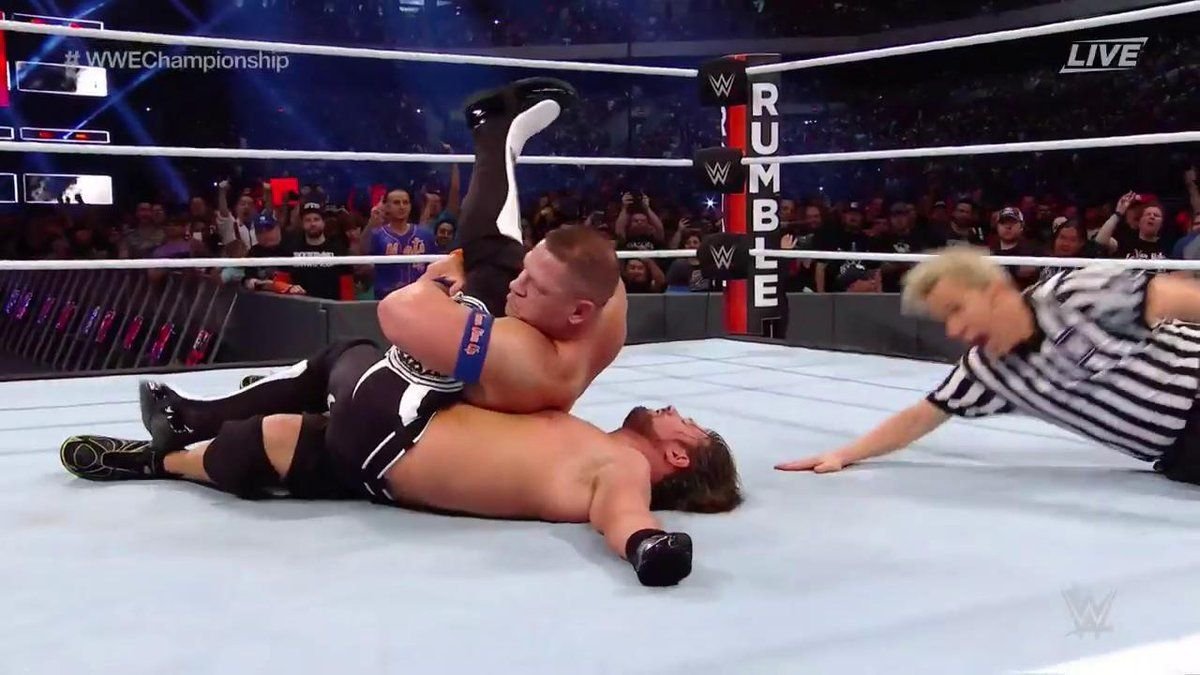 https://twitter.com/WWE/status/825889626732630016 
Royal Rumble
Big Kass and Enzo Amore start things off, get the crowd fluffed up chubby with local Texas pride.  Enzo got mic. Big Kass got size. More hot Lone Star Homage to make a crowd pur go roar. Break down the walls, it's Jericho coming as number two in the Royal Rumble. Slap in the face by Jericho leads to a beating by the Big Kass.  "Stupid Idiot" chants from the crowd. Boot to the face before Kalisto's pop.  The Luchador runs full speed up the long run way. It's a very long, long runway.  Someone greenlit this very long runway.  Here comes Mojo Ryley.  He's always saying "hype".  It's his zen.  Big Kass is big.  Mojo is hype.  Jericho is the gift. Kalisto is taking a nap in the corner.  Here comes Jack Gallagher and an Umbrella named William.  He cleans up a bit before Jericho beats him up body slam "Drink It In Baby".  William pops out between his legs.  Gallagher gets a shoot to tale round the fire back home if his character be any indication of his home.  No time for that, time for Mark Henry's 9th Royal Rumble Appearance.  Mark did not rush down the awkwardly long aisle, but gets into it with everyone as soon as he gets in the ring.  Gallagher gets eliminated by Mark Henry, a fitting end to the tale told round the imaginary fireplace where I gather he spends a Gentlemen's Holiday.  Bran Strowman is a large man. He lumbers down the aisle.  He eliminates a few until it's Mark Henry and Strowman face to face. Strowman powers him out.  Jericho still trolls the skirts and officially still in the match.  Sami Zayn runs down to the ring to yet another beating by Bran.  Big Show's comin, he is not running and will take this long walk in stride.  He and the big show have a big stare down in the ring.  Two large towers of power.  The WWE are putting over Bran.  Tye Dillinger, the 10, enters and he eagerly bounces his way into the ring where he and Sammy team up to take on Strowman.  Nice powerslam doesn't compare to the pop when James Ellsworth music hits and he enters with Carmella by his side and gusto in his step til faced with the leering Strowman.  Strowman almost gets taken out by Tye & Zayn.  Number 12 is the lunatic fringe, Dean Ambrose.  He lures Ellsworth into instant elimination via Strowman.  Ambrose goes to work on Strowman.  We do not see James leave. We did not see the other men leave. That much we know is lonely.  

Here comes the Lone Wolf, Baron Corbin.  He runs that ramp at a nice clip.  Strowman tosses Tye out.  After everyone puts a splash and a boot on Bran, Corbin eliminates Strowman.  He gets really into it before a DDT cools it down.  It's a New Day when Kofi Kingston springs, sort of skips down the ramp.  Kofi is always jumping for fun.  Awesome. Miz came to play and he knows how to enter his 10th Royal Rumble.  He saunters in with wife Maryse, struts a few, then sorta runs but you know it ain't a sprint, jumps in to Skull Crushing Finale on Sami Zayn out of the gate.  Everybody goes back to beating each other up.  Sheamus gives the stage a good charge.  His music didn't play very long and he didn't get a very loud pop.  But they get back into him when the Celtic Warrior gives Miz the chest beating 1, 2, 3, 4, Wrestling teaches kids to count. Don't you dare be sour, New Day's Big E got some jump in his step as he takes the stage.  Rusev Machka got some face thing on his face next to his elegant wife Llana.  He has a good run going, start out jogging, pick up to a charge, nice dive in the ring and that's a lot of Rusev to hit a bunch of other dummies.  They get back to beating each other up before Number 19 Cesaro enters to start swinging Miz, Sami Zayn, then Dean Ambrose, then Kofi, Baron, pause on Seamus long enough to take a boot in the face.  Xavier Woods gives a steady charge down the pike, reunites with New Day to put a whoopin on Irish Mohawk.  Here comes some mystery, Bray Wyatt saunters into the arena with his lantern. He is not running, but you don't see him walk that fast, so he has some urgency as he approached the stage.  Miz takes Wyatt's first blow  Bray dropping blows on everyone before a stare down clothesline on Xavier.  Apollo Crews hits the stage with hop and a pump, couple of Crews moves. Cesaro and Sheamus take out all three of New Day.  Cesaro and Sheamus get taken out by Jericho.  Voices in My Head announce a striding and then slowly jogging, tosses shirt into crowd and dives into the ring, RKO striking Viper Randy Orton.  Everybody is greeted with an RKO except for Bray Wyatt who mocks the audience.  Dolph Ziggler is here to show the world, he chugs down the ramp, hits the stage and starts rocking out some super kicks.  Luke Harper lumbers to the stage and begins to beat up then eliminate Apollo.  Some kind of family altercation with the Wyatts.  Bray takes a beating from Luke Harper before RKO outta nowhere on Harper.  Number 26 hits the guitar chords from hell, The Beast is coming to feast, the conqueror has arrived, Brock Lesnar does not run to the ring.  

He has a mega confident stride. Tosses two out the ring and begins to Suplex and F5 everybody.  Enzo Amari will definitely run down to the ramp. He goes hard, he ain't sawft.  He spazzes out and takes a Lesnar lariat before being tossed out.  Number 28 is the moment we have all been waiting for.  Goldberg, in his black and white trunks, covered in burning sparklers, kicking out fireworks, breathing out smoke, he will not run to the ring.  He marches that fifty year old monster of a dude dad bod up to the apron, faces Lesnar.  Speers and eliminates Lesnar.  Goldberg showing some dominance before Bray and Randy team up on Goldberg.  Goldberg is still coming out on top.  Darkness and Bells announce the Dead Man, the Undertaker.  He does not run nor walk to the ring.  The lights come up and he is magically in the middle.  That is the power of the dead man.  For no matter how mighty the belt bearer be, the Undertaker can magically teleport into the middle of the ring.  Goldberg is eliminated by the Undertaker.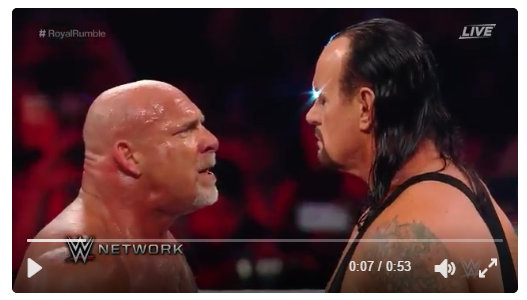 https://twitter.com/WWE/status/825911051497590784

I'm going to go on a limb at this point and say it's Undertaker vs John Cena at Wrestlemania for the WWE Championship. Roman Reigns will also not run to the stage. He give a grimacing swagger to the ropes.  He will enter with calm and face the dead man long enough to take a punch from death.  Choke slam on Roman.  Undertaker takes out Zayne and the Miz.  Jericho takes a chokeslam.  Undertaker gives the choke of death sign before Roman tosses him out from behind.  Awkward turn but Hot staredown before back in the ring with four men left: Jericho, Randy Orton, Roman Reigns, Bray Wyatt.  Roman hammers out Jericho.  I was way wrong on that Undertaker prediction.  Orton and Bray have an interesting and uncertain alliance. They team up on Roman til Roman eliminates Bray.  Randy delivers the RKO and wins the Royal Rumble.  Brilliant. Randy Orton is on the road to Wrestlemania, again, to face John Cena, again, for the WWE Championship, again.  Randy, WWE legacy, a reinvestment in a valuable character close to the traditions of the WWE Universe's story.  Cena - Orton, Wrestlemania, New Orleans. 
Holy Foley what did you think of the Royal Rumble? How do you feel about John Cena vs Randy Orton possibly headlining Wrestlemania?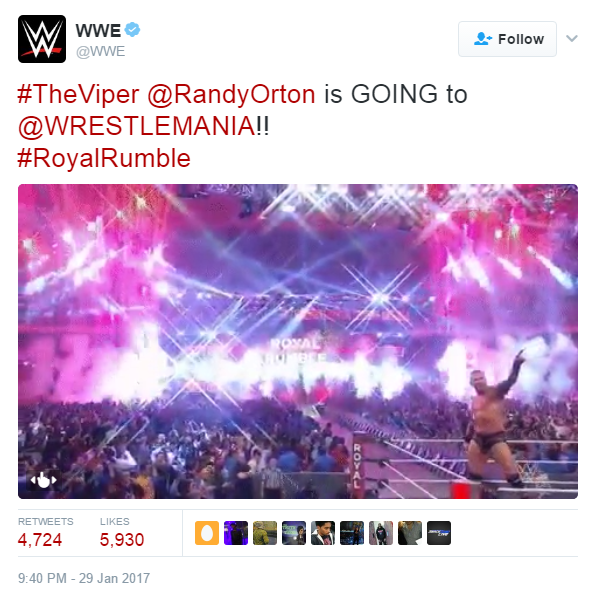 https://twitter.com/WWE/status/825911587068272640
...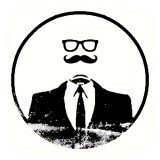 Чашка кофе в Сент-Луисе. Mokabees Южной Сиде
..
BTS ~ d6babb698a8a763f
GOLOS ~ @jacobts 
UpVotes ~
 Спасибо , Thank You , Jacob TS